Heaters are a basic and daily requirement in the winter season. The heater has a lot of pipes, valves, and moving components that require servicing and maintenance to operate at their best. Therefore scheduling a heater service with professionals at least once a year is a must-do thing. 
Heater servicing includes maintaining a clean and clutter-free environment around the exterior unit of the furnace heat pump. It may also include changing the air filter as necessary. Repair persons thoroughly clean the unit and grease all moving components. Furthermore, they secure electrical outlets after verifying components like the thermostat and system controls for good operation.
When does the heater need to be serviced?
It is important to keep an eye on the heater to be serviced to avoid complications that may take place. In addition to preventive maintenance, servicing the heater is crucial if you find any issues.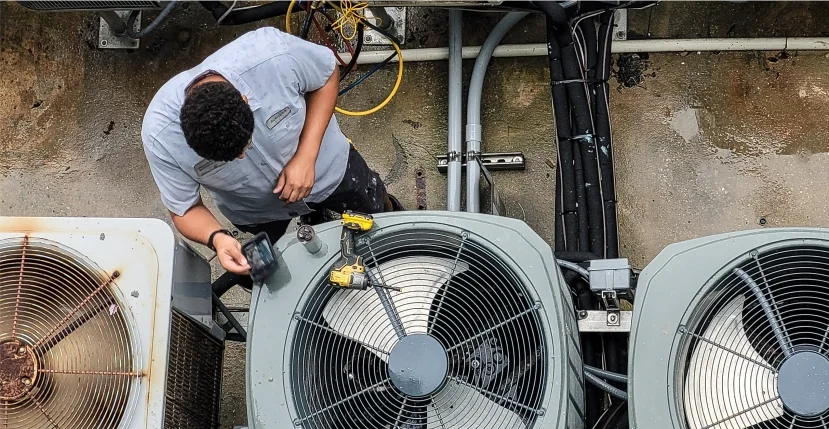 You can also schedule a heating repair service anytime when you find any of these problems with your heating system:
Odd noises or odor from the heater.

Your heater is not turning on or not providing enough heat.

Your electricity bills go up more than usual.

Noticeable decrease in heating performance
All these are signs that your HVAC heating system or heater requires service to keep it up at proper functioning.
Importance of Regular Heater Maintenance/Servicing:
Servicing the heater ensures that the HVAC or heating system functions most effectively. When technicians visit and examine the system, they perform necessary repairs leading to better performance and efficiency. 
Nevertheless, lack of maintenance can lead to a variety of problems, such as decreased energy efficiency and insufficient heating. It can also lead to equipment failure and the need for costly repairs. Regular HVAC services and cleaning allow potential problems to be recognized and solved before they become major issues.
HVAC service providers will check and implement any mandatory repairs during a visit. Such preventative maintenance can help extend the life of your heater and keep it running at peak performance.
Benefits of Scheduling heater Maintenance with a Professional HVAC Technician:
It is best to contact a professional HVAC service provider to get regular maintenance and servicing done. They will be able to provide you with the best advice and service to keep your heater in good working order.  Thus, the benefits of professional services are as follows: 
Expert technicians guarantee the safe and effective operation of your heater.

Lack of maintenance can lead to decreased energy efficiency and equipment failure, resulting in higher energy bills and costly repairs.

Professional cleanup and examinations can help find and fix possible flaws before they become bigger concerns.
Professionals inspect and clean your doorsteps and help you get your serving done.
Get in touch to have your heater services under the expert's guidance:
If you are looking for experts to service your heater, contact us to get the help of our professional technicians. The way most convenient for you will be used to deliver our best-in-class services at an affordable price.